Doctors & Staff
Meet the experienced and friendly doctors and staff who make Whitesell Optometry the leading provider of vision care products and services in Spring Hill.
---
William Whitesell, O.D.
An education that never stops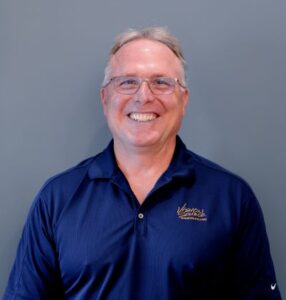 "Education is the foundation for any practice. That's why I'm proud to have graduated from respected schools. But a degree is just the beginning. New advances are being made in eyecare all the time…advances that professionals need to stay on top of. Those advances mean more effective, comfortable care for you and your family. That's why I make it a point to pursue continuing education courses that keep me on the leading edge of optometry."
Doctor of Optometry: Northeastern State University, Summa Cum Laude
Advanced Training: Postoperative care of the cataract patient, Comanagement of refractive surgery patients, Certified Wave Contact Lens Designer, Certified in the treatment of glaucoma
Sharing Knowledge with his peers
"These prestigious professional groups allow me to meet with colleagues from across the country. We share everything from the latest breakthroughs in vision testing and new ways to improve our patient's care to the latest styles in fashion frames. In this way, I'm able to bring a vast amount of combined knowledge to your family's precious vision."
Member: American Optometric Association, Contact Lens Section of AOA, Kansas Optometric Association, Heart of America Contact Lens Society, Vision Source
An integral part of the community
"I feel I have been given so much in this life. That's why I make sure to take time and give back to the community. I really enjoy spending time with such quality people."
Past Board Member: Spring Hill School District
Past Board of Directors: Spring Hill Chamber of Commerce
Member: Spring Hill Lions Club, Volunteer Doctor: See to Learn Program, Volunteer: Shadow Program for High School Students
"As a lifelong area resident, I feel fortunate to be able to practice in my own community. You are more than patients to me; you are family, friends, and neighbors. That's why I've made it a point to offer the latest vision testing equipment and an impressive variety of fashionable eyewear. Because you deserve the very best service and selection available today."
---
Courtney Bloodgood, O.D.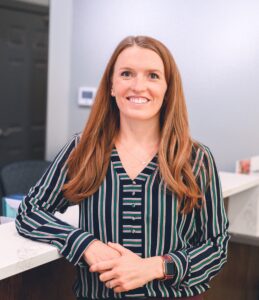 Dr. Bloodgood  grew up in Spring Hill, KS and first became interested in optometry when working for her dad, Dr. Whitesell. She completed her B.S. in Biology from the University of Central Missouri in May 2009 and graduated with her doctorate from Northeastern State University Oklahoma College of Optometry in May 2014. She was the top graduate at NSUOCO and received the award for Most Outstanding Clinical Skills in the class of 2014, as well as the Award for Excellence in Pediatric Optometry. She joined Whitesell Optometry in June 2014.
Dr. Bloodgood has had extensive training in the diagnosis and treatment of eye conditions and diseases. Her special interests are working with children and fitting contact lenses.
Dr. Bloodgood married her high school sweetheart, Cory Bloodgood, in May 2009. They have two daughters and a son. She enjoys reading, sports, fitness, and spending time with her family.
---
Staff
Laura Kelly – Office Manager
ReChelle Zerr – Optician
Jordan Whitesell – Optician
Amy Howard – Front Desk
Briana Dick – Optometric Technician
Tina Miller – Front Desk
Mary Dobson – Optometric Technician